---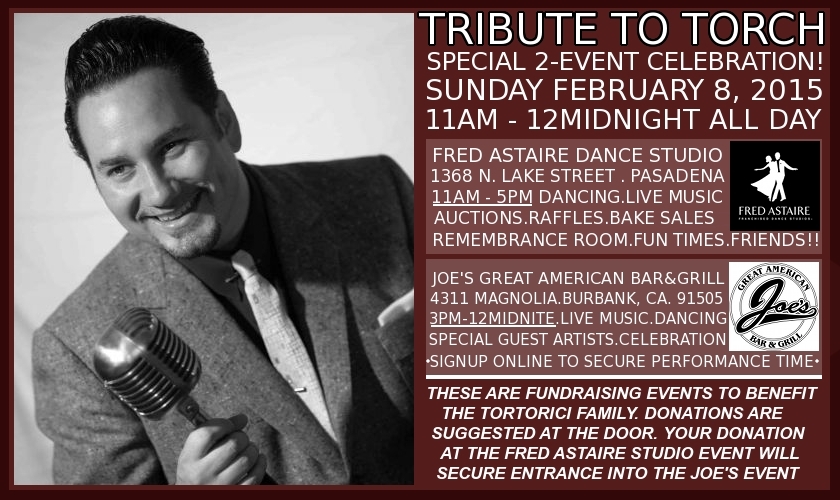 First Event - Fred Astaire Dance Studio
Map to first event (11am to 5pm): Fred Astaire Dance Studio, Pasadena
Parking
Please do NOT park behind studio or at Liquor Store- they tow! There are three parking options available for the event.
Lake & Rio Grande Parking Lot
This lot has been reserved for the event. It is north of the studio. Entrance is on Rio Grande.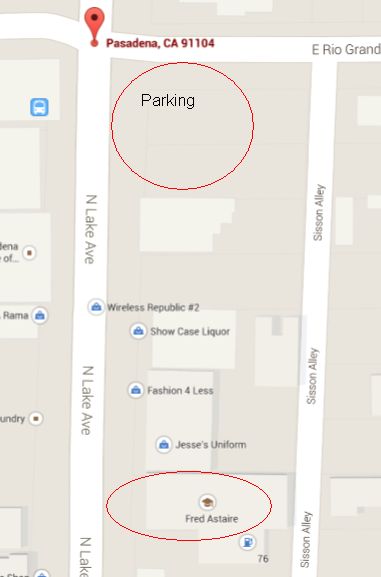 Washington & Mentor Parking Lot
This is a public parking lot, south and east of the studio across the street. Entrance is on Mentor.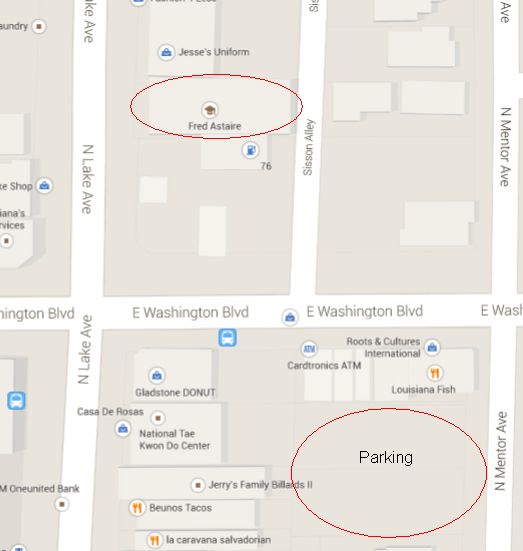 Street Parking
Your final option is street parking. Even though it's Sunday, make sure to read the signs!
Who can attend
This event is for all ages.
Fundraiser Information
The main purpose of this event is a fundraiser to help offset the Mark's funeral costs. Any additional funds raised will be donated to one or more of the following charities in Mark's name:
Want to own a piece of History? Part of an amazing collection of Americana? One of Mark's awesome Vintage items? We'll have HUNDREDS of items up for direct sale, silent auctions and raffles! Fred Astaire is your ONLY location to participate in owning a part of Marks wonderful collection, including:
Suits
Clothes
Shoes
Ties
Vintage Luggage
Memorabilia
CDs
Books
...and more!
In addition, there will donated gift cards, services, and other items up for sale/auction/raffle from vendors such as:
Swift Vintage
Unique Vintage
Dance Lessons from Fred Astaire
...and more!
Live Auction ends promptly at 3pm (must be present to pay for and claim prize)
Raffles will continue until 4pm (must be present to claim prize)
Bake-sale!
Want something sweet? Treat yourself at the bake-sale! That's right- Mark loved some tasty baked goods and helped support many a bake sale for charity- be prepared to leave with some for the office Monday morning!
Dancing!
The following acts will be performing:
Time
Singer/Band/Act
11:00 AM - 5:00 PM
DJ Dr. Nate
(a.k.a. Nathan Smythe)
Running sound and DJ-ing in between sets
11:00 AM - 12:00 PM
Glenn Takakjian's Piano Bar
12:00 PM - 12:45 PM
Douglas "The Crooner" Roegiers
1:00 PM - 2:00 PM
Big Butter Jazz Band
2:15 PM - 3:15 PM
The Icy Hot Club
3:30 PM - 4:30 PM
The New Recessionaires
The Reflection Room
Join Mark's Family in bringing mementos to share in our reflection room - Videos, photos, trinkets etc. A quieter space to reflect and remember our great friend! At 4pm there will be a presentation of funds raised to Mark's Family.
Fred Astaire Dance Studio Event Contact Information
Click on the name of the point of contact to send them an e-mail.
Things WE NEED (at Fred Astaire) !!!!!
Tables and chairs
Table Cloths
Clothing racks
Cash boxes
Laptops/ iPads (for payment processing and video equipment link ups)
Stands for signs or displays
Mannequins
Videos or photos for projector
Decorations
Mementos and Memorabilia of Mark for reflection room
Paper supplies

Kleenex
Plates
cups
napkins
paper towels
toilet paper

Bake sale supplies

plastic wear
Ziplocks
To-Go boxes
lunch sacks
tin foil
cake boxes
cupcake boxes
etc
Second Event - Joe's Great American Bar and Grill
Map to second event (3pm to 12am): Joe's Great American Bar & Grill, Burbank
Parking
There is limited parking behind Joes. However, free parking has been secured especially for the tribute. You can find parking in the lot behind 4403 Magnolia. This is just north of Magnolia on Valley Street. Valley Street is the street immediately west of Joe's Great American Bar & Grill. Go north on Valley and make a left into the lot. If you are still having trouble finding parking, then you will need to check the side streets. Just make sure to double check the posted signs (if any).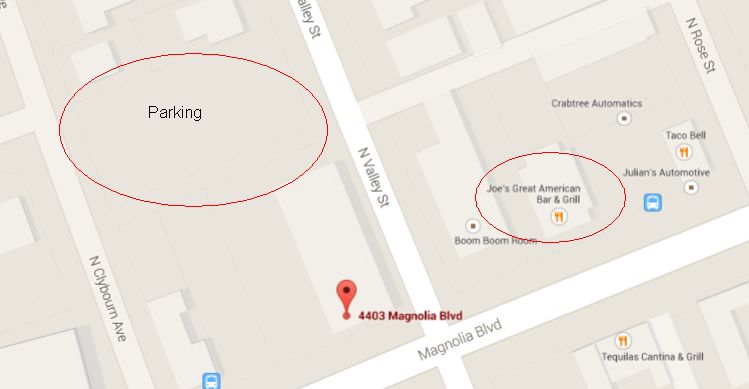 Who can attend
This event is for ages 21+ (since it is a bar that serves alcohol).
What's happening?
Live music, special performances, dancing, food, and drink.
Performances in order of appearance (subject to change):
Time
Singer/Band/Act
3:00 PM
Hosts: Ronnie Mack &
The Hollywood Combo
4:00 PM
Toni "The Tyger" Boller
4:15 PM
Russell Scott
4:30 PM
Veronica Puleo
4:45 PM
Dave Stuckey
5:00 PM
Little Faith
5:15 PM
Sayed Sabrina
5:30 PM
Jennifer Keith Quintet
5:45 PM
Lightnin' Willie
6:00 PM
Carl Sonny Leyland
6:15 PM
Suzy Williams
6:30 PM
Hot Roux
6:45 PM
Paulie Cerra
7:00 PM
Rachel Rizner
7:15 PM
Rip Masters
7:30 PM
Dona Oxford
7:45 PM
Brian Hogan
8:00 PM
(we'll make it work somehow)
DEDICATION OF PORTRAIT by Zoey Taylor

Original Song by Elyse Haren

Song/Dance/Harmonica Tribute by Maureen Davis
featuring Preston Smith on harmonica,
with dancers Christopher, Eriicka, & Rachel

Blues Memories w/John Marx

Sax Tribute to Torch w/Ron Dziubla
8:15 PM
Lil' Mo and the Dyanflos
8:30 PM
Bobby Barron
8:45 PM
Reginald Dewitte
9:00 PM
Val Peterson
9:15 PM
David Bernson
9:30 PM
Eddie Baytos
9:45 PM
Steve Waddington & Susan Ritter
10:00 PM
Merle Jagger
10:15 PM
Preston Smith
10:30 PM
Christine Nelson
10:45 PM
Douglas Roegiers
11:00 PM
Phat Cat Swinger
11:15 PM
Catfish Bluez
11:30 PM
Switchblade 3
11:45 PM to close
Open Jam and/or DJ and/or Juke Box - TBD