Send Us A Message
Feel free to contact us through the form below. Please be patient with us, as it may take us some time to review and reply to any messages.
For Submissions, please observe the following:
Videos should be links to videos hosted on You Tube, Vimeo, etc. where the public can see the videos directly
Pictures should be submitted in zipped folders with links from where they can be downloaded.
Images can be any quality, but should not be more than 840px wide and should be in .jpg format.
There are free programs available that will allow you to do this in batches. (Fotosizer is one that sems to work well)
Photo credit will be granted if requested, but will summarized in a list at the end of the gallery.
For "memories", if you are sharing a song, please provide the artist, title and a link to a music video if there is one.
The family and administrators reserve the right not to publish part or all of any submission if deemed inappropriate.
When making a submission, it is implied that you have the right to share the photos or videos that you want to share with us and have obtained permission from the copyright holder to do so. Should we find out in the future that this is not the case, we will have to take the pictures/videos down, so please me kind and observe proper due dilligence before submitting material to be used on the site.
We appreciate your attention to these matters.
Donations
The Tortorici family would like to extend their heartfelt appreciation to everyone who was able to donate their time, money, services, and/or items to sell at the auction/fundraiser/tribute.
Due to the overwhelming generosity of so many of Mark's musician brothers and sisters, his many fans, and caring friends and family, the Tortorici family was able to cover Mark's funeral expenses at Conejo Mountain Memorial Park & Crematory where he was laid to rest.
After much time and thoughtful consideration, all the organizations we chose are organizations, places and things that were closest to Mark's heart. We know these are the choices he would have wanted us to make.
All donations were given "in Loving Memory of our son Mark 'Torch' Tortorici". If you would like any further information, please feel free to reach out to us via the Contact Us section above, and the family will be happy to explain.
St Patrick's Episcopal Day School
---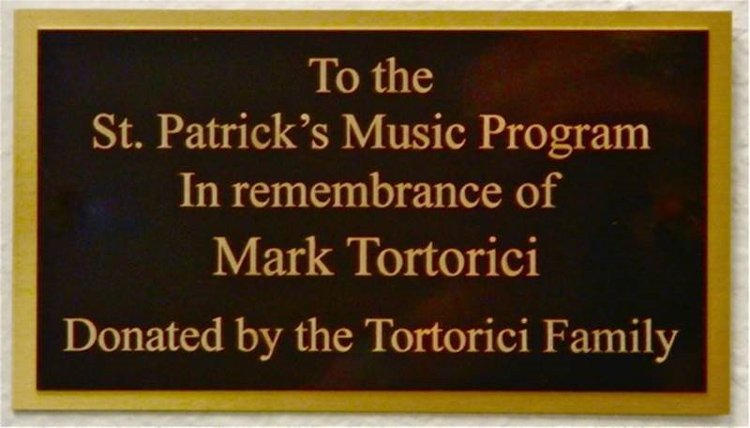 Thousand Oaks High School
---
Thousand Oaks Senior Scholarship recipient, donation by Andy & Gay Tortorici